Gwynna de Geus and Róisín Mc Cormack won the Gerrit Jan Mulder price for their work on neurodevelopmental disorders caused by TAOK1.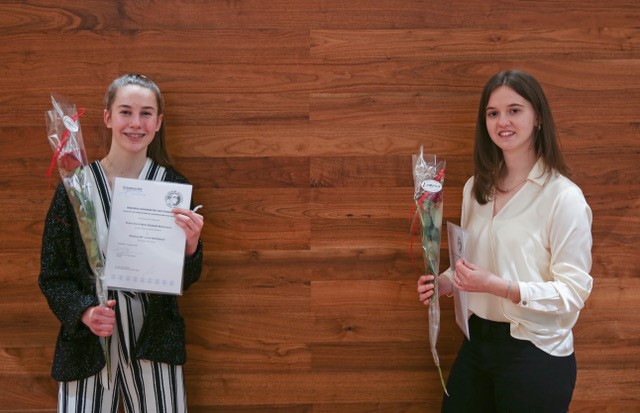 Gwynna de Geus en Róisín Mc Cormack hebben beide meegedaan met het Junior Med School programma van het Erasmus MC, een uitdagend programma van anderhalf jaar voor excellente 4-VWO'ers met een interesse in Geneeskunde en wetenschappelijk onderzoek. Het eerste deel bestaat uit het volgen van onderwijs en gedurende het 2e deel moeten de studenten zelf een onderzoek uitvoeren. Gwynna en Róisín hebben hun onderzoek uitgevoerd in het lab van Dr. Geeske van Woerden, waar ze gedurende 4 weken hard hebben gewerkt om te onderzoeken of DNA veranderingen gevonden in het TAOK1 gen schadelijk zijn of niet. Eind vorig jaar hebben Gwynna en Róisín hun resultaten gepresenteerd en opgeschreven in een verslag en wonnen daarmee de Gerrit Jan Mulder prijs, (georganiseerd door de Gerrit Jan Mulder stichting (https://www.eur.nl/erasmusmc/samenwerking/gerrit-jan-mulder-stichting/over-de-stichting)). Uiteindelijk zijn hun bevindingen ook terecht gekomen in een mooie publicatie (https://onlinelibrary.wiley.com/doi/10.1002/humu.24176).
Van harte gefeliciteerd Gwynna en Róisín!